| | |
| --- | --- |
| Introduction to Comparator Fast | |
Comparator Fast is an application that simplifies the comparison / verification / status of two different directories on any media (local drives, network drives, recordable CD's, Removable Drives, Tape Backups (as logical disks), Zip Drives, Jaz Drives, Notebooks, Compact Flash, Smart Media, USB Pen Drives, etc). Comparator Fast can detect Missing files, Newer Files, Duplicated files, Unresolved files, Repeated (cloned) files on any folder, Folder structures, and include many tools and tasks you may use to fix errors and keep your folders really synchronized.
Easy to use interface
You just need to specify both paths, choose some parameters options and click SCAN button.
Comparator Fast will scan both directories (and subdirectories if specified) and show information on easy to read and understand tabbed windows.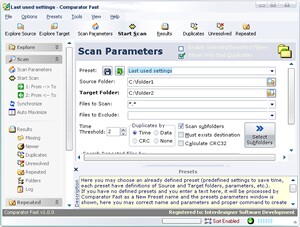 Comparator Fast is available at with an icon

you may click to show or hide Comparator Fast's main window, or for other options.